Pet Cloning – How Do I Clone My Pet?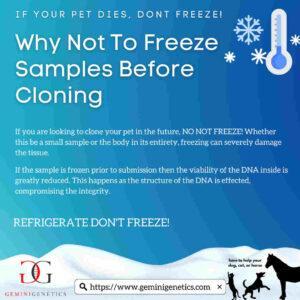 If wanting to clone your cat or clone your dog, please remember – do not freeze!
Whether this be a small sample of tissue, or the body in its entirety, freezing can severely damage the cells within the animal's tissue. This will then affect the structural integrity of the DNA, greatly reducing the viability for cell culture and cloning in the future.
Remember – refrigerate, do not freeze!