Clone Kitty – Cat Cloning In Action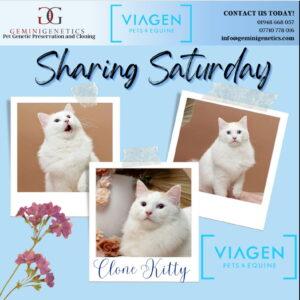 Clone Kitty has just celebrated her 2nd birthday! Belle was successfully cloned by our partner cloning company, ViaGen Pets. Her story demonstrates the applications of pet cloning, and the value of this service to owners of much loved animal companions.
At Gemini Genetics , we offer pet genetic preservation services for pet cloning, in association with
ViaGen Pets
ViaGen Pets
ViaGen Pets
– the world leaders in pet cloning! UK based and starting from just £500 + VAT, our pet genetic preservation service enables you to create a life long bond with your beloved animal companion, and to continue their legacy and memories beyond their lifespan. We work in association with ViaGen Pets and Equine by genetically preserving and culturing samples in preparation for cloning. Contact us today for more information.
www.geminigenetics.com
; Tel: 01948 668 057 ; email: info@geminigenetics.com