Nature's SAFE – Preserving Our Animals Future!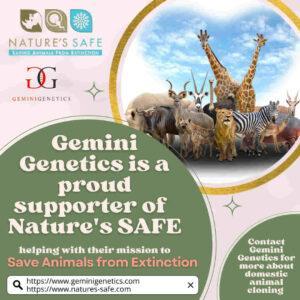 We at Gemini Genetics are a proud sister company of the charity
Nature's SAFE
, helping them in their mission Save Animals From Extinction!
Using adapted methods from domestic animal cryopreservation from Gemini Genetics, Natures SAFE is able to preserve wild and endangered species tissue samples for future regenerative technologies. Creating an invaluable biobank of these animals DNA to enable a future for all species!