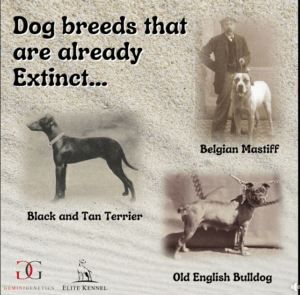 Unfortunately, there has already been cases of canine extinction. These are not limited to the Belgian Mastiff, Black and Tan Terrier, and the Old English Bulldog. These once loved breeds are now lost to the history books.
This loss is irreversible… but we don't have to let today's dogs become breeds of the past!
Instead, we need to act NOW! To recognise the challenges that they face, and work together to build a more sustainable future for our breeds!
Keep up to date with Gemini Genetics and Elite Kennel fertility to be able to better understand which technologies are becoming available to help save these breeds in the future.