Feeling Proud: Stallion AI Services World First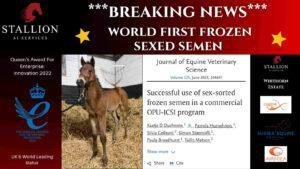 Feeling Proud
Today at Gemini Genetics, we are feeling proud of our sister company Stallion AI Services, upon the news of another world first achievement!
Congratulations
to the the unstoppable team at Stallion AI! No wonder they are Queen's Award for Enterprise Innovation Winners!
At
Gemini Genetics
, we are hugely lucky to share our facility with this amazing company. Officially opened by HRH The Princess Royal, with multiple business awards, including their latest MBE equivalent, we really are based at an industry leading facility.
#feelingproud #Congratulations #welldone #worldfirst #welldoneteam #StallionAIServices #equine #SexedSemen #semenfreezing #stallionsemenfreezing #equinebreeding