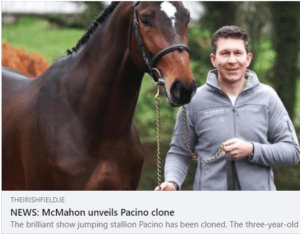 Exciting News! Just announced! Equine performance cloning in action! Clone of famous show jumping stallion Pacino.
Equine cloning starts with the preservation of a skin sample. At
Gemini Genetics
, we facilitate UK based genetic preservation for cat, dog and equine cloning. This means you can start your equine cloning journey here within the UK! With skin sample preservation from just £500 + VAT.
Irish Field EXCLUSIVE: Pacino II has been announced. Clem McMahon has cloned his famous stallion Pacino.
"He has grown into a fabulous big, blood, scopey model that looks like a carbon copy of himself. There are so many small mannerisms that you can see in him that you knew from Pacino, it is uncanny."