Transformation from Gem Twist to Murka's Gem!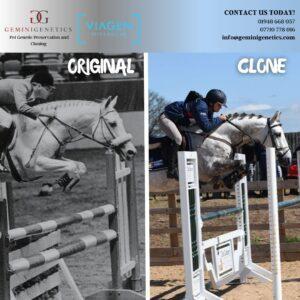 This incredible side by side shows just how similar Gem Twist and his clone Murka's Gem really are!
Commonly referred to as the greatest showjumper of all time, Gem Twist was a world-renowned thoroughbred gelding who had a successful show jumping career between the years of 1985-1997. Bred by Frank Chapot, Gem Twist was a consistent winner of national competitions and was the only horse that had won the title 'American Grand Prix Association Horse of the Year' three times. Due to the gelding's inability to reproduce, the Chapot's made the decision to preserve Gem Twist's tissue in the hopes of pursuing the cloning process.
In 2011, the second clone of Gem Twist was born, Murka's Gem. He holds the exact identical profile to Gem Twist and has been utilized by trainers and Olympic riders for both eventing and show jumping. This cloning process of Murka's Gem was made possible by our partners at
ViaGen Pets
, allowing this magnificent bloodline to live on.
At Gemini Genetics , we offer pet genetic preservation services for pet cloning. UK based and starting from just £500 + VAT, our pet genetic preservation service enables you to create a life long bond with your beloved canine companion, and to continue their legacy and memories beyond their lifespan. Contact us today for more information.
www.geminigenetics.com
; Tel: 01948 668 057 ; email: info@geminigenetics.com
#clones #horses #clonedhorse #gelding #murkasgem #gemtwist #showjumping #transformationtuesday #BeforeAndAfter #viagenpets #geminigenetics #genetics #tuesday #tuesdayvibe #jumping #horsecompetition #HOYS