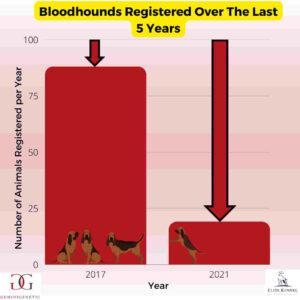 As sadly seen in the diagram, over the last 5 years the number of Bloodhounds has drastically decreased… dropping from 88 in 2017, to a shocking 19 in 2021.
This means that without help this wonderful breed will soon be lost to us forever!
We cannot let this happen!!
Keep up to date with
Gemini Genetics
and
Elite Kennel fertility
as we develop our series on canine rare breeds. understand about the impacts of these issues while learning which technologies are becoming available to help save these breeds in the future.