Our Cloned Dog Gem Is On TikTok!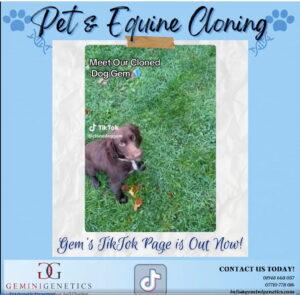 Learn more about Gem via her brand new TikTok account as well as her own Instagram…
She is quite a character! So like and follow to learn more about our amazing little girl.
Did you know, at Gemini Genetics, we preserve cat, dog and equine DNA for future cloning?! Our cloned dog Gem started her life as a small skin sample taken from the original dog upon their passing. Available in the UK and starting from just £500 + VAT. Contact us for more information!
https://www.geminigenetics.com/contact-us/
#gem #clonedog #cloneddogs #puppytiktok #dog #clone #cute #dogsoftiktok #puppy #cloneddog #crazygirl dog cloning our cloned dog clone your dog uk pet cloning pet cloning uk do people clone their dogs what is a cloned dog like whats it like to own a cloned dog dog cloning uk can i clone my dog you can clone dog cloning uk cloned dog our cloned dog gem