Can I Clone My Pet? Exclusive Channel 4 News Coverage!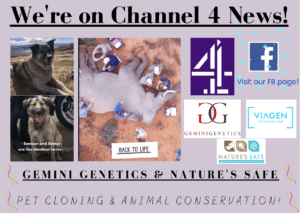 Can i clone my pet? Watch our Channel 4 News coverage here.
Just released! Great feature by Channel 4 News, featuring our laboratory for pet genetic preservation but also the work of our associated charity, Nature's SAFE! Where domestic animal genetic preservation technology is adapted and used to assist with wild animal conservation!
Learn more about pet genetic preservation and cloning here – https://www.geminigenetics.com
And find out more about the amazing work of Nature's SAFE here –  https://www.natures-safe.com/
Gemini Genetics – pet genetic preservation and cloning, in association with ViaGen Pets and Equine!