Hazel Dawn Illustrations!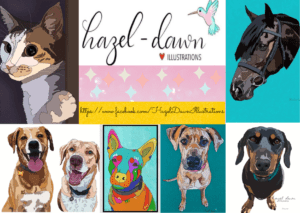 Introducing our second pet artist –
Hazel Dawn Illustrations
Hazel works with a bold, pop art design to create a beautiful, colourful and happy memory of your pets. Learn more here – https://www.etsy.com/uk/shop/HazelDawnIllustrates
Thank you to all those who responded to our artist posts! We now have 2 great artists on board, and look forward to helping you create a beautiful and lasting visual memory of your animals!