Gemini Genetics Makes Local News Headlines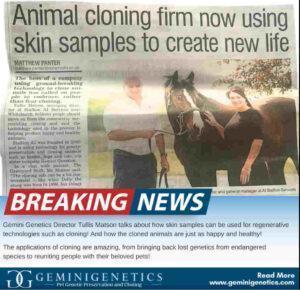 Gemini Genetics Makes Local News Headlines
Just last week the Shropshire Star highlighted our work here at Gemini Genetics to the local community!
With company director Tullis Matson explaining how skin samples can be used for regenerative technologies such as cloning! And how cloned animals are just as happy and healthy as any other!
The applications of cloning are amazing, from bringing back otherwise lost genetics from endangered species, to reuniting people with their beloved pets!
Read the full article here! https://www.shropshirestar.com/…/animal-cloning…/