What to buy a pet owner for Xmas?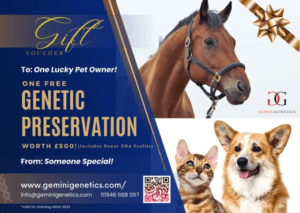 Looking for the perfect Christmas gift for an animal lover in your life?
Why not give the gift of genetic preservation for their cat, dog or horse!?
Gift cards available for genetic preservation and independent DNA profile analysis. Valid for use within 2023!
Give the gift of genetic preservation & cloning this Xmas!
A unique and special present for any pet owner with that once in a lifetime animal companion!
Contact us today for more information! Available for cats, dogs & horses!
Email: info@geminigenetics.com Tel: 01948 668 057