We Have An Official Sponsor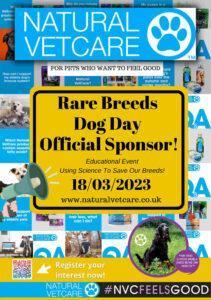 We Have An Official Sponsor!!
Thank you to Natural Vet Care for their support & sponsorship of our upcoming Rare Breeds Dog Day, Using Science to Save Our Breeds!
Natural VetCare create unique supplements to support the health of cats and dogs and help them to feel good! Alongside NAF, they also provide a leading canine fertility supplement, proven to increase nutritionally sensitive semen quality and dog libido.
Register for our educational event, 'Using Science To Save Our Breeds' here! A day not to be missed! Featuring expert lectures from canine reproduction veterinarians, genetic preservationists, and leading academics from Nottingham Trent University. Free entry, with lunch and hospitality provided.