Stallion AI Services Liquid Nitrogen PPE Kits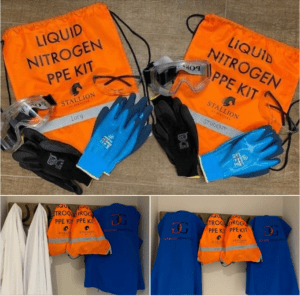 Thank you to Stallion AI Services for our liquid nitrogen PPE handling kits!
Here at Gemini Genetics , we are able to indefinitely store your animals DNA for the future! And we do this with a little help from liquid nitrogen!
However, with a temperature of -196°C, liquid nitrogen can be dangerous as well as helpful. So, we have now got some new and improved Liquid Nitrogen PPE Kits! From our sister company,
Stallion AI Services
! Ensuring the safe and secure storage of your animals DNA.
Learn more about Stallion AI Services, Stallion AI Services PPE Kits and Stallion AI Services liquid nitrogen courses here – www.stallionai.com