Speaker Announcement! Gemini Genetics – Rare Breeds Dog Day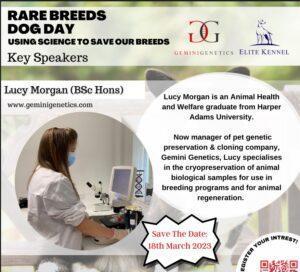 🎉Speaker Announcement: Lucy Morgan: Gemini Genetics 🎉
Confirmed speaker for our Rare Breeds Dog Day: Using Science To Save Our Breeds⭐
Lucy Morgan is an Animal Health and Welfare graduate from Harper Adams University.
Now manager of pet genetic preservation & cloning company, Gemini Genetics, Lucy specialises in the cryopreservation of animal biological samples for use in breeding programs and for animal regeneration.
On our 'Rare Breeds Dog Day: Using Science To Save Our Breeds', Lucy will be introducing us to the concept of biobanking, its application and importance to rare breed preservation and the application of skin cell preservation for cloning and animal conservation.
An educational day not to be missed – 18th March 2023 – free entry, with lunch and hospitality provided – register today!
https://www.geminigenetics.com/rare-breeds-dog-day-interest-form/
#speakerannouncement
#rarebreeds
#rarebreedsdogday
#rarebreeddogs
#studdogs
#studdogsuk
#caninefertility
#caninefertilityclinic
#speaker
#announcement
#event
#dogs
#rarebreed
#rarebreeds
#puppies
#elitefertility
#elitekennelfertility
#stallionaiservices
#RegisterNow clone my pet pet cloning UK clone my dog dog cloning UK pet cloning uk dog cloning dog ai canine fertility clone my dog dog cloning uk can i clone my dog? can i dog my dog UK? pet cloning uk can i clone my pet