Save The Date!! For Our Rare Breeds Dog Day – 25/03/2023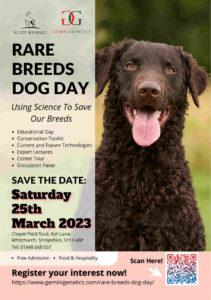 SAVE THE DATE!! For Our Rare Breeds Dog Day – 25/03/2023
Educational Event – Using Science To Save Our Breeds!
Did you know, there are at least 28 UK native canine breeds that are vulnerable to extinction!?! Yes, EXTINCTION!
In response, we are joining forces with our sister company,
Elite Kennel Fertility
to host an educational rare breeds dog day to detail and discuss the latest technologies available to help save rare breeds from extinction.
Expert lectures, conservation tool-kits, current and future technologies, center tour, discussion panel and much, much more! Free to attend with food and hospitality provided.
Keep up to date with our social media to stay informed about this event
(also available on Twitter and Instagram)