Rare Breeds Dog Day: Speaker Announcement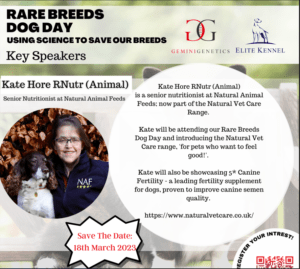 Kate Hore RNutr (Animal) is a senior nutritionist at Natural Animal Feeds; now part of the Natural Vet Care Range.
Kate will be attending our Rare Breeds Dog Day and introducing the Natural Vet Care range, 'for pets who want to feel good!'.
Kate will also be showcasing 5* Canine Fertility – a leading fertility supplement for dogs, proven to improve canine semen quality.
An educational day not to be missed – 18th March 2023 – free entry, with lunch and hospitality provided – register today!
https://www.geminigenetics.com/rare-breeds-dog-day…/
#speakerannouncement #rarebreeds #rarebreedsdogday #rarebreeddogs #studdogs #studdogsuk #caninefertility #caninefertilityclinic #speaker #announcement #event #dogs #rarebreed #rarebreeds #puppies #elitefertility #elitekennelfertility #stallionaiservices #RegisterNow #saturday #whatson #whatsonshropshire #shropshirelife #shropshireevents #shropshirebusiness #Update #dogbreeder
#cats dog cloning #kitten clone my dog #horses clone my dog UK #foals dog cloning #dogs pet cloning #dogslife cat cloning #theloveofadog can i clone my dog #puppies can i clone my pet? #puppylove can i clone my cat? #dogsoffb can i clone my horse? #Canine dog cloning #caninecompanions UK dog cloning #theloveofadog dog cloning UK #doglover UK cat cloning #dogbreeds can i clone my cat UK? #animals How much does it cost to clone my dog? #ourdogs dog cloning #petlovers dog cloning uk #WeAreBetterWithPets Uk pet cloning #monday dog cloning #petownership uk dog cloning #responsiblepetowner can i clone my dog? #responsiblepetownership