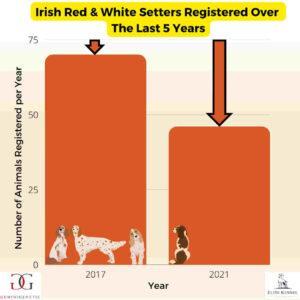 The Irish Red & White Setter
Unfortunately, througho
ut the last 5 years, the number of Irish Red and White Setters have steadily been declining. The numbers have dropped from 70 in 2017, to a sad 46 in 2021.
This hunting breed has
 been on the brink of extinction before… we can and need to save them again!
Keep up to date with
Gemini Genetics
and
Elite Kennel fertility
as we develop our series on canine rare breeds. Learn about the impacts of these issues while learning technologies are becoming available to help save these breeds in the future.