Rare Breed Dogs. The Effect of Population Size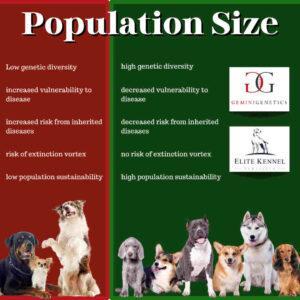 Canine Rare Breeds. What are the effects of small population sizes? 
The shrinking population sizes of our canine rare breeds have a massive impact going forward. As breed numbers decline, the risk of inbreeding increases and overtime, populations become more genetically related and less genetically stable and resilient. Reduced breed and individual fitness will be seen and left untouched, the breeds will enter an irreversible extinction vortex, of which their active regeneration will be difficult to achieve within closed, pure bred populations. We therefore need to act NOW to secure the future of our declining dog breeds, to prevent their irreversible loss.
Our Dog Breeds Need Us!!
Keep up to date with Gemini Genetics and Elite Kennel fertility as we further develop our series on canine rare breeds. Understand more about the impacts of these issues while learning which technologies are becoming available to help save these breeds in the future.