Rare Breed Dogs- Gene Pool To Gene Puddle!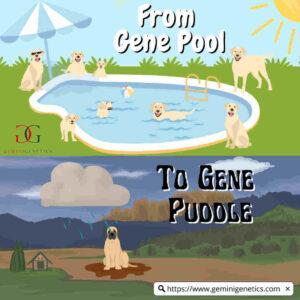 If you have been following our social media (please do! To keep up to date!), you will have seen that Gemini Genetics and Elite Kennel Fertility are joining forces to focus on canine rare breeds! Without help, vulnerable breeds will dimmish from
sustainable gene pools, to unsustainable gene puddles. We cannot let this happen!
What Is A Gene Pool? 
A gene pool refers to the genetics available within each breed, and the genetics available to make new individuals. When populations deteriorate, so does the variety of genetics and along with it, the health, fitness and ultimate survival of the breed…
Keep up to date on our social media platforms to find out what we are doing to help! And how you can become involved.