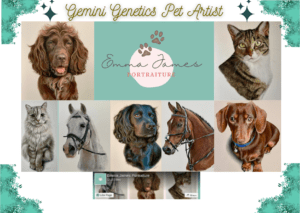 Excited to announce we have our first associated
pet artist
!
Emma James Portraiture
!
Emma's work is truly amazing and through our association, you can now create a beautiful and lasting visual memory of your pet, along side preserving their genetics.
Contact
Gemini Genetics
today, for more information on pet genetic preservation. And for more info on our new association!
Gemini Genetics
in association with
ViaGen Pets
And proud supporter of charity
Nature's SAFE