Our Rare Breeds Dog Day: Speaker Announcement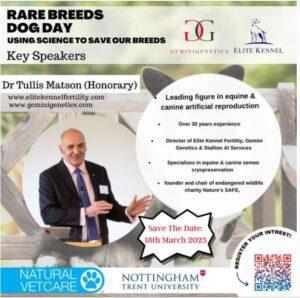 Our first confirmed speaker for our Rare Breeds Dog Day: Using Science To Save Our Breeds
Dr Tullis Matson is a leading figure in equine and canine assisted reproduction, with over 30 years of experience and now holding an honorary PhD in recognition of his career achievements in advancing technologies, knowledge and services in this area of animal breeding. Tullis specialises in equine and canine semen cryopreservation, equine rare breed preservation and is also founder and chair of endangered wildlife charity,
Nature's SAFE
As director of
Elite Kennel Fertility
& Gemini Genetics, in additional to world renowned equine semen centre, Stallion AI Services, Tullis will be opening our Rare Breeds Dog Day and leading our discussion panel.
An educational day not to be missed – 18th March 2023 – free entry, with lunch and hospitality provided – register today!
Watch out for our upcoming confirmed speaker releases!
dog cloning uk dog cloning clone my dog uk can i clone my dog? pet cloning pet cloning UK? can i clone my dog dog cloning clone my pet dog cloning UK