Our Rare Breeds Dog Day: Speaker Announcement – Elite Kennel Fertility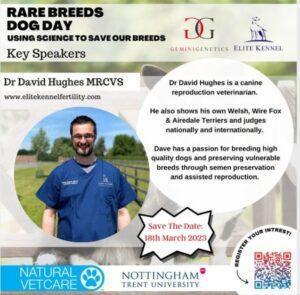 Confirmed Speaker For Our Rare Breeds Dog Day. Dr David Hughes – Elite Kennel Fertility 
Dr David Hughes is a canine reproduction veterinarian at
Elite Kennel Fertility
. Dave has a passion for breeding high quality dogs and preserving vulnerable breeds through semen preservation and assisted reproduction. He also shows his own Welsh, Wire Fox & Airedale Terriers and judges nationally and internationally.
At our 'Rare Breeds Dog Day; Using Science to Save Our Breeds', Dave from Elite Kennel Fertility will be lecturing on the plight of endangered dog breeds and the canine assisted reproduction technologies that can be used to help save them from extinction.
An educational day not to be missed – 18th March 2023 – free entry, with lunch and hospitality provided – register today!
Gemini Genetics & Elite Kennel Fertility!
pet cloning elite kennel fertility clone my dog dog cloning elite kennel fertility dog semen freezing canine fertility elite fertility stud dog uk dog cloning pet cloning clone my dog clone my pet uk dog breeder dog breeding uk clone my dog dog cloning Gemini Genetics