Our Rare Breeds Dog Day 2023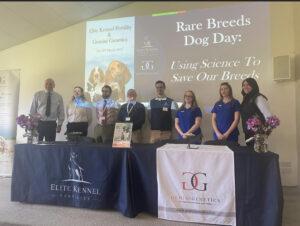 To kick of our media series we are starting with our own team here at
Gemini Genetics
Manger Lucy and Placement Student Ellelouise had an amazing day meeting everyone who attended, as well as being able to present some of the technologies and techniques available to be able to preserve our beloved canine companions indefinitely!
Lucy started off with her talk on how we can use 'Biobanking To Save Rare Breeds'. Where she explained how the collection of biological/genetic material can be used to secure the future of our endangered species! Whether it be against known or unexpected challenges, biobanking gives us the opportunity to fight back against extinction! " ' " – The Frozen Zoo (1984). With her later talk about 'Genetic Preservation & Cloning For Breed Sustainability & Revival' reiterating this key point! With the addition of explaining the tissues needed and the process of cloning itself!
Ellelouise carried on from this sentiment with a case study featuring a recording from guest speaker Dr Shawn Walker from
ViaGen Pets
and Equine, our US cloning partner. Where the technologies can be seen in action! With the endangered species of both the Black Footed Ferret and Przewalski's Horse having been successfully cloned from samples taken over 30 years ago! These otherwise lost genetics have now been re-introduced into the population, widening the gene pool and helping keep these species around for the future!
– make sure to keep up to date on all our socials as we follow up with a full series about how we are !