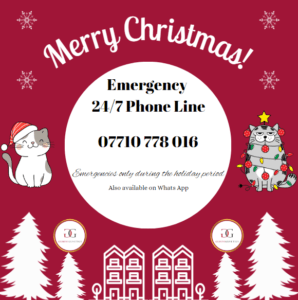 Need Emergency Help Over the holiday period? Please call 07710 778 016 or message us on Whats App and a member of the team will contact you as soon as possible.
Key things to remember;
If your pet has passed away, keep their body chilled & not frozen
We will need a skin sample from your pet
Samples need to arrive within 5 days of your pet passing away. So if this happens on Xmas Day or Boxing Day, and you cant reach our office straight away, please dont panic, you have up to 5 days for the samples to reach us.
Have A Happy & Safe Christmas!