National Walk Your Dog Week!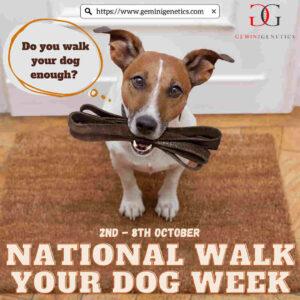 As National Walk Your Dog Week comes to an end are you able to say that your dog gets walked enough?
Dogs need regular exercise to stay fit and healthy; mentally as well as physically. And so, taking them out for walks as often as you can reduces emotions such as stress and anxiety, in turn helping keep your healthy and happy!
Maintaining the overall well-being of your animal is essential to happiness. And everyone wants to have a happy, healthy dog! Plus walking your dog is as good for your own health, wellbeing and fitness, as your dogs!!