National Pet Wellness Month!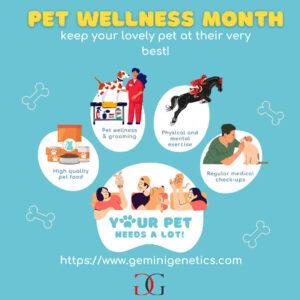 I'm sure many of you want the absolute best for your beloved animals, as after all they are a much-loved part of the family! But there are some things that may be forgotten…
Make sure they have a suitable diet – all pets need tasty, nutritious and balanced food!
Keep up with any grooming requirements your pet may have – keep them clean and happy!
Make sure to maintain both physical and mental stimulation – exercise is hugely important to pet (and owner!) wellbeing!
Regular medical check-ups – especially as your pet gets older
Your pet needs love and care to keep them happy and healthy! So this National Pet Wellness Month, make sure you are giving your animal companion the very best of life!
Learn more about how you can keep that special pet in your life with genetic preservation and cloning at Gemini Genetics –
https://www.geminigenetics.com