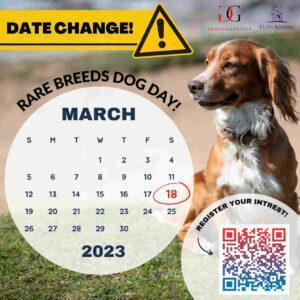 Important Announcement! Date Change! Using Science To Save Our Breeds!
To accommodate an additional speaker for our Rare Breeds Dog Day; Using Science to Save Our Breeds, we have changed the date from 25th to the
18th March 2023.
This educational day in association with our sister company,
Elite Kennel Fertility
, details the challenges faced by our canine rare breeds and the technologies available to help save them from extinction!
Confirmed speakers:
Dr David Hughes (MRCVS Veterinary Surgeon) –Canine reproduction specialist
Dr Tullis Matson (Honorary) – Canine and equine reproduction specialist
Lucy Morgan (BSc Hons) – Animal cryopreservation and regeneration specialist
Dr Andy Dell (BSc PhD PGCE) –  Genetic analysis expert and rare breed population management
Professor Philippe Wilson, Nottingham Trent University – Professor in One Health, analytical science and biomedicine. Also specialises in genetic analysis and rare breed population management.
Keep up to date with our social media to stay informed about this event