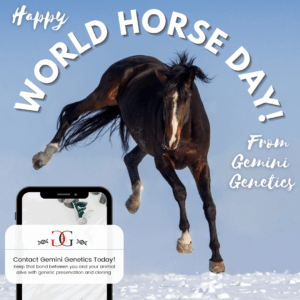 Did you know there are 340 different horse breeds in the world today! Some have been around for centuries, whilst many have only recently been developed in the last couples of decades.
Did you also know you can now clone your horse!?
With the process starting from just £400!?!
Gemini Genetics
is a UK based animal genetic preservation company, partnered with world leading cloning company,
ViaGen Pets
, meaning UK and European equine owners can now access industry leading cloning technology.
Allowing you to recreate an international superstar or just bring back that once in a lifetime horse or pony. Watch out for our upcoming series on equine performance cloning- the next generation in equine breeding! Then link to website