Golden Ticket Give Away! Stallion AI Services Open Day 2023!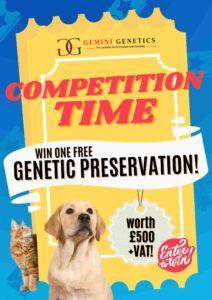 Tomorrow on Saturday 22nd April,
Gemini Genetics
will be attending our sister company
Stallion AI Services
much anticipated Stallion Show! Featuring some of the best stallions the UK has to offer, as well as VIP hospitality, Twemlows Stud Tour, Trade Stands, and not forgetting food! You don't want to miss it!
Admission is £10 on the day. With 12 & under going free!
**COMPETITION TIME!
**
10 lucky winners will receive a special golden ticket in their goodie bag! So don't forget to pick one up at entry to see what prize you receive! And there might even be a special something for our VIP Guests and Stallion Owners…
How much do you know about the animal genome? Could you guess how many 'coding' genes there are within a particular species? Well, if you think you might know the answer, make sure to come over to our trade stand to take part in our competition! where you could WIN ONE FREE GENETIC PRESERVATION! The first critical step in the cloning process.