Cryopreservation – indefinite storage of your animals DNA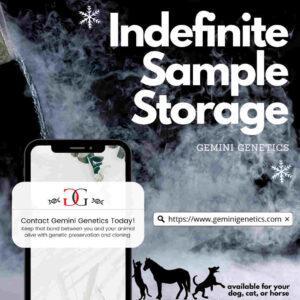 Whether you're unfortunately going through a time of loss, or you're just wanting to plan for the future, Gemini Genetics is here to help!
By sending us just a small tissue sample from your beloved animal, Gemini Genetics can indefinitely store their DNA! Which can then be used in regenerative technologies such as cell culture and cloning!
For more information about the process of domestic animal genetic preservation and cloning visit the Gemini Genetics website –
https://www.geminigenetics.com