Could you be an ambassador for your dog breed?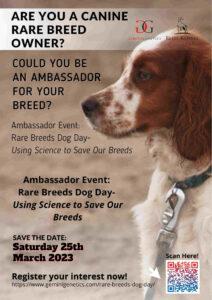 This week, we announced our Rare Breed Dog Day, Using Science To Save Our Breeds! An educational day in association with our sister company,
Elite Kennel Fertility
, to detail the challenges faced by canine rare breeds and the technologies available to improve breed sustainability.
To ensure we understand the challenges faced by each breed, we would like to invite canine rare breed ambassadors to attend, in person and virtually, to represent their breed, discuss the specific threats and hurdles they are facing and the technologies needed to help your specific breed.
Could you be an ambassador for your breed? Contact us today for more information!