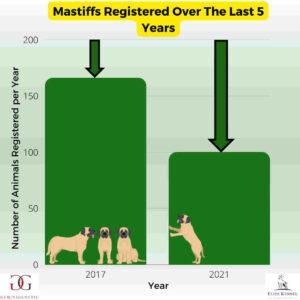 Canine Rare Breeds! The Mastiff
Tragically, this gentle giant of a breed has seen a dramatic loss in numbers over the last 5 years, from 166 registered in 2017, to only 100 2021.
These beautiful dogs have served as wonderful canine companions for so long… we can still save them!
Keep up to date with Gemini Genetics and Elite Kennel fertility as we develop our series on canine rare breeds. Understand about the impacts of these issues while learning which technologies are becoming available to help save these breeds in the future.