Can I Clone My Pet! Yes You Can!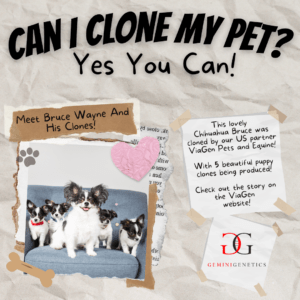 Pet cloning is a very real possibility and is becoming more widely accessible then before!
One example is the story of Bruce Wayne. This lovely little chihuahua was his owners best friend. And with a little help from ViaGen Pets he was able to preserve that very special human-animal bond for the future!
The 5 cloned puppies that were produced were even more similar than he realised they would be, with there owner explaining how "they are a lot alike both looks and personality wise", with only slight difference between them.