Be Cat Safe This Christmas!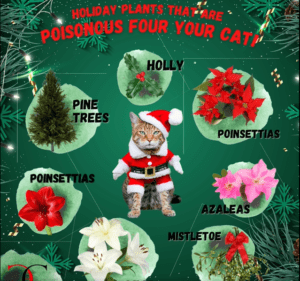 Do you know which holiday plants are harmful to cats? Keep your cat safe this Christmas! 
As the Christmas season is quickly approaching, many people will be staring to put up their decorations! However, did you know that many seasonal plants are poisonous to cats? So make sure you check before bringing any home!
The oils in pine trees along with the sharp pine needles themselves can potentially cause a hazard to paws as well as internal organs if ingested.
The sap within the leaves of this plant can irritate the mouth and oesophagus, and if ingested, can further cause nausea like symptoms.
This red flower is similar to poinsettias. However, if any part of this plant is ingested then problems such as nausea symptoms and or tremors may occur.
&
Both of these plants contain chemicals that, if ingested, cause fatal health risks to cats…
This entire plant, and even the water in the vase, can be fatally toxic to cats. Even in small amounts…
Like lilies, the entire plant can be toxic if ingested, leading to a wide range of symptoms varying in severity.
Gemini Genetics know how much our cats mean to us, so why not preserve that bond indefinitely!